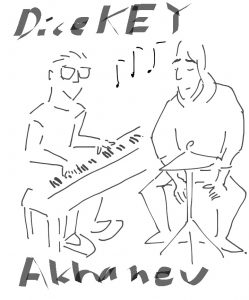 DiceKEY Akhanev is a music project led by a composer/ keyboardist Daiki Akahane.
Its music mixes and incorporates influences from a wide range of genres including jazz, pop, classical and rock.
Its band structure is fluid and ranges from Daiki's solo piano to a quartet involving guitar, bass and drums, but recent gigs are basically performed in a piano-cajon duo setting with Daiki on piano and a drummer Takehito Katsuya on cajon.
For details about the DUO, please see below.
---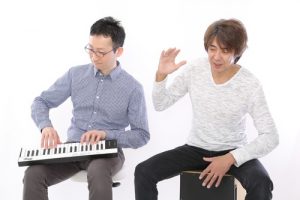 DiceKEY Akhanev DUO Formed in 2014 in Tokyo by a composer/pianist Daiki Akahane and drummer/cajonist Takehito Katsuya, DiceKEY Akhanev DUO have sought to create acoustic music which maintains lyricism from the 20th century but also accommodates more "digitized" and punctuated rhythm feelings of the 21st century. Its music is based on jazz/fusion but encompasses a wider range of genres such as pops and world music.
【DiceKEY Akhanev DUO
(ダイスキー アクハネフ  デュオ)】2014年に作曲家/ピアニストDaiki Akahaneとドラム・カホン奏者Takehito Katsuyaにより結成されたピアノ・カホン・デュオ。Pat Metheny Groupなどジャズ・フュージョンからの影響を基調としつつ、ポップス、ラテン、クラシックなどの要素も取り込み、少年・少女時代に見上げた空の色と木々の緑を想起させるエバーグリーンな音楽を目指す。2022年2月に4曲入りEP「Clipped Currency」をリリース。同年9月には6曲入りEP「春を待つ」をリリース。