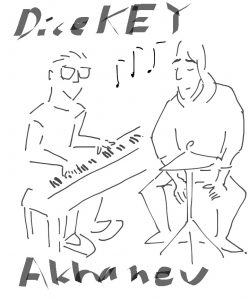 DiceKEY Akhanev is a music project led by a composer/ keyboardist Daiki Akahane.
Its music mixes and incorporates influences from a wide range of genres including jazz, pop, classical and rock.
Its band structure is fluid and ranges from Daiki's solo piano to a quartet involving guitar, bass and drums, but recent gigs are basically performed in a piano-cajon duo setting with Daiki on piano and a drummer Takehito Katsuya on cajon.